Google Keep is one of the most slept on, underutilized apps in all of GSuite. The beauty is in its simplicity. It is an easy to use, quick note taking app. There are few days when I don't use Google Keep. I use it to take notes in meetings, while I read professional learning books, to make grocery lists, to make to do lists, to save links to articles I read online and more. The location-based reminders are my favorite feature. When I'm getting ready for work and I think of things I need to do at work, I put a list in a Keep note and set the location-based reminder for school. I enter the school's name or address, and when I arrive, I get a notification on my phone.
When I design learning experiences with Google Docs and Slides, I use the Google Keep sidebar to pull notes into my lessons. It is this integration with Docs and Slides that allows Keep to act as "jumper cables" for writing. Keep jumpstarts writing by helping organize research while giving quicker, easier access to notes while writing.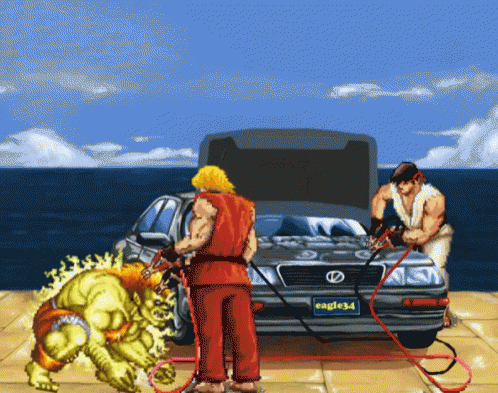 Research Paper
If students are writing a research paper, Google Keep can be their best friend. As they scour the web for credible sources, the "
Save to Keep
" Chrome Extension allows them to save the site they're on to their Keep notes. This saves a link to the site for future reference and citation in their writing. In addition, they can add notes to the saved link. When they start writing, they can open Keep in the sidebar menu of Google Docs giving them access to all of the notes/links saved in Keep. From the sidebar menu, they can add notes to their document and expand the writing. The color coding feature of Keep notes can help students organize their research by concept, topic, etc.
Collaborative Writing
In a similar fashion to features mentioned above with writing a Research Paper, Keep is valuable when doing collaborative writing. If research is divided up, collaborators can share Keep notes with each other. When the writing begins, collaborators can see all the research notes saved in Keep by team members.
Reflective Writing
When students rotate through a stations activity or go on a field trip, it is a common practice to have them take notes at each step. To make the experience more meaningful, having students write a reflection is a good activity. If students took notes on Keep at each station or during the field trip, their reflective writing can be jumpstarted with the quick access to notes in the Keep sidebar in Google Docs.
The suggestions above merely scratch the surface of the ways in which Keep can be applied. Its integration with apps such as Docs and Slides as well is with Sheets, Calendar and Gmail provide many possibilities. How do or will you apply Keep?